Going to Japan is not complete without going for a hot spring bath, right? So in our December 2013 trip to Tokyo, we knew we had to find a good spot for a nice warm relaxing bath.
Swimsuit onsen, Shin-Urayasu
If you love Japanese culture, I bet you have come across the onsen culture. Onsen or hot spring, as we know it in English, is so popular in Japan that there are specific onsen towns where you can find hot spring water pretty much at every hotel or corner bath house.
One reservation that I had with most onsen in Japan is that you are meant to go in naked. I'm not used to that culture and it was one I was a little unwilling to try. Plus, going with the hubby means that I'd have to be separated with him (if we were to choose the segregated kind). So, the first time we visited Japan, we went to an onsen theme park in Hakone called Yunessun where we could actually wear our swimsuits.
This time around, we decided to give Ooedo-onsen Monogatari Mangekyo at Shin Urayasu a try. It is another swimsuit onsen but instead of the theme park style, this one's more natural and all outdoor. Plus, it's not very far from central Tokyo.
Being only about 20 minutes away from Tokyo Station by train, the Shin-Urayasu branch of Ooedo Onsen is not far from Tokyo Disney area. In fact, it is a very close distance from Maihama Station! So, this makes Ooedo Onsen Mangekyo a very good location for a half day trip, or a night time getaway – which was what we did.
Once you arrive at Shin-Urayasu Station, it is best to ask someone (and bring a print out of the name of this onsen in Japanese) to find the location of the free shuttle bus. Yep, there's a free shuttle bus, which is really handy – and there's the bus schedule on their website, you just need to Google translate.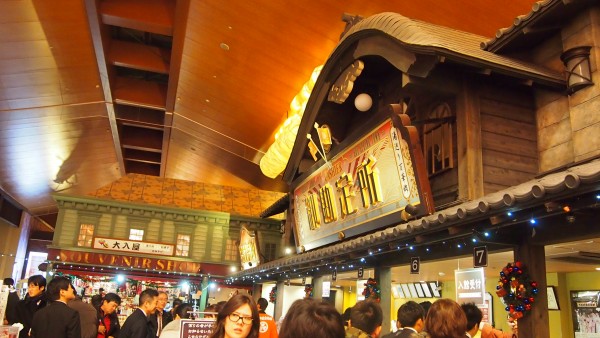 Upon arrival, you could really feel the traditional atmosphere that they try to recreate. It's like being transported into an old Edo town.
We went in, took our shoes off and placed them in the lockers. Then we queued up for our cool wristband/locker key/money beeper. If you didn't bring your swimsuit, there is a shop that sells some really kawaii Japanese-style swimsuits (i.e. very very cute).
Then, the girls and the boys had to separate to go into their own locker areas. I took some photos of the locker areas since they were empty.
After the second photo, my friend pointed out that there was a "no photo" sign. So, no more photos from here on, sorry peeps, just following the rules!
We had quite a bit of fun trying out different style outdoor onsen – and this was my first night onsen experience, which was pretty cool (and literally, cold). My favourite would have to be this igloo-shaped area in which we could lie down and relax by the side or dip our feet in. There are some photos on their website to give you an idea…
Once we were done, we walked out to the food court area wearing our yukata (included in the package).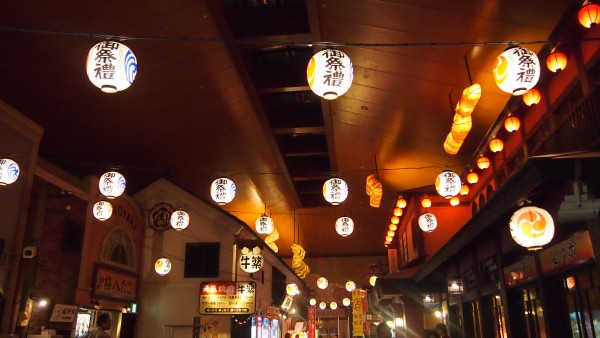 There were a number of options for food. But it wasn't the food that brought us here, so don't expect too much.
Once we were done, we headed back to Tokyo (via shuttle bus and then train from Shin-Urayasu again)… It was a great experience! I think the hubby still preferred Yunessun, due to its variety of indoor and outdoor onsen and the many unique pools that were there (from coffee to green tea to honey).
Have you been to a hot spring before? Let me know your onsen experiences below…