What comes to your mind when someone says Kobe, Japan? I assume wagyu beef! ;) Kobe beef is, after all, famous worldwide. So when we decided to do a daytrip to Kobe, we knew that eating this expensive beef would be our main priority.
Plus there was also this pretty illumination…
But that's much later. So let's focus on our main reason for visiting Kobe…
Wakkoqu Kobe Beef (Shin-Kobe Branch)
There are obviously plenty of restaurants offering Kobe beef in Kobe (and around other places in Japan). But we wanted something that offered quality with at least some concession for our wallet. So after searching online, one of the most recommended places was Wakkoqu.
The location that we visited was the one just around the corner from Shin-Kobe Station. In saying that, we did get lost for about 1/2 hour trying to look for this restaurant! Ha. To help you with it, basically head outside of the station and walked towards the Oriental Avenue building. The restaurant is on the third floor among many other restaurants.
We made a reservation online (in English too, woot!) and arrived about 10 minutes earlier before opening time. There were already another 2 groups waiting.
We were given the menu and had to decide between the different grades of beef. They offer good lunch courses for less than ¥6000, but the hubby decided that since he was in Kobe already, might as well try the best in the menu. The best in the menu was about ¥14000. I chose the lunch menu, so we could share and try two different beef.
Check out our chef! He was skilful and friendly.
Our courses came with an entree of soup for the lunch menu and salmon carpaccio for the expensive menu.
Here's our Kobe beef… Look at that marbling!
The chef prepared our meals very swiftly, making sure that the beef were cooked just right… and then placed them on our plates.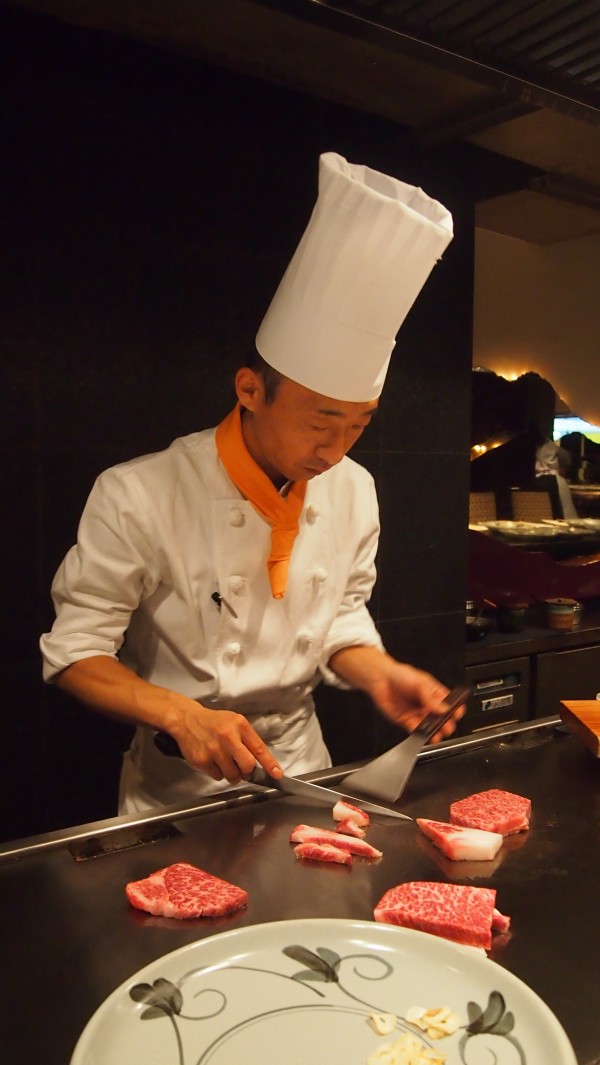 We died and went to cow heaven. And then came back for another bite! Seriously. So. Good.
Now, for the verdict… The expensive $150 Kobe beef, I'd have to say, was the best beef I have ever had in my life – and probably will be the best one I'll ever have, because we don't intend to return and pay that amount of money for beef again. My lunch course was worth it too, by the way. Delicious juicy tender beef. But probably closer to the Hida beef we had when in Takayama.
We finished our Wakkoqu Kobe beef experience with a tiny scoop of ice cream to clean our palate at the end of our awesome meal.
So I guess the question you need to ask yourself is: (1) Do you have $150 to spare for a meal? (2) If you don't, then do you actually care about sticking to the budget? Because, if you really do visit Kobe to eat Kobe beef, then you might as well try the best to know what the fuss is all about.
I personally would answer no for the first one and went straight for the lunch course, because ignorance is bliss – and I'm a cheapo. But now that I've tried the expensive one (thanks hubby), I somehow could understand his reasoning. Sort of.
Nunobiki Herb Gardens & Ropeway
Our second part of the Kobe trip was to visit the Nunobiki Herb Gardens, because it was just next to the Shin-Kobe Station. We didn't have anything planned until night time, so we decided it was best to spend it leisurely over the Shin-Kobe Ropeway ride overlooking the city from Mount Rokko.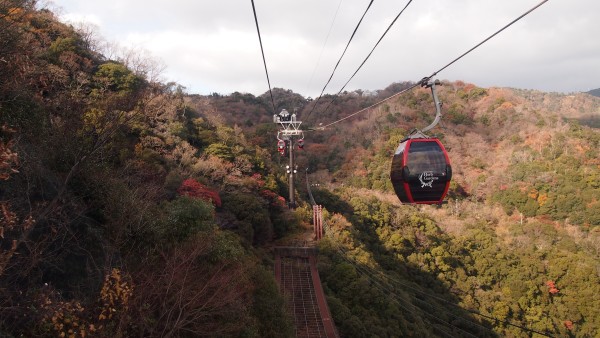 It was indeed a nice trip up the mountain via the cable car (or ropeway), with clear views of Kobe city and surrounding…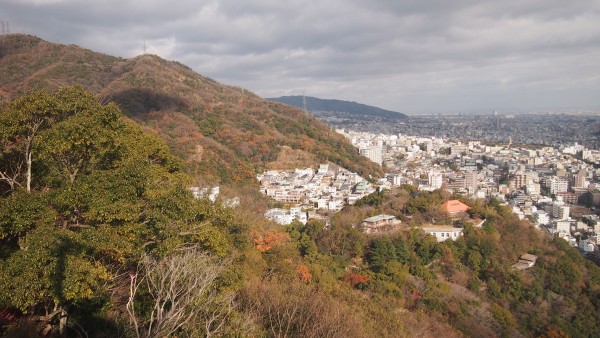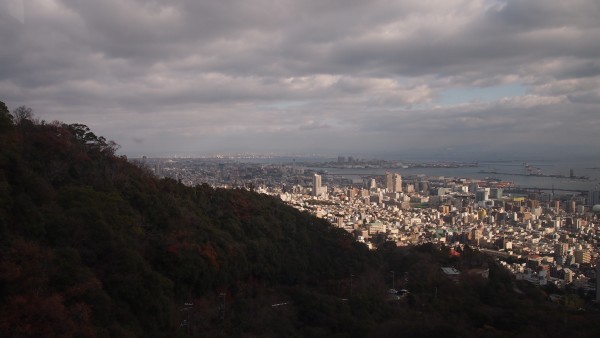 As we got higher up, the Herb Garden came to view underneath us. The sad thing was, because it was in the middle of December, there were very little flowery things around the garden. All we could see was dried grass and barren area. Oops!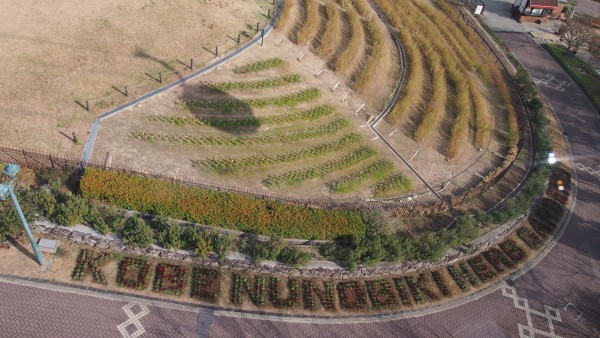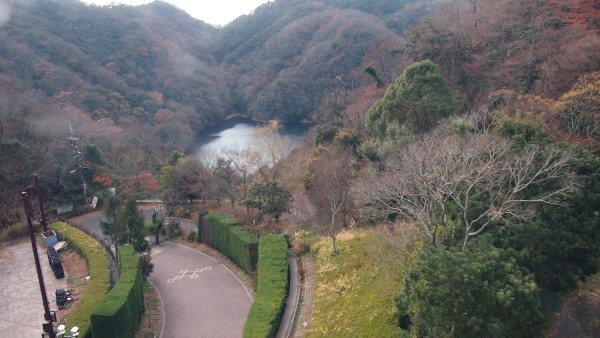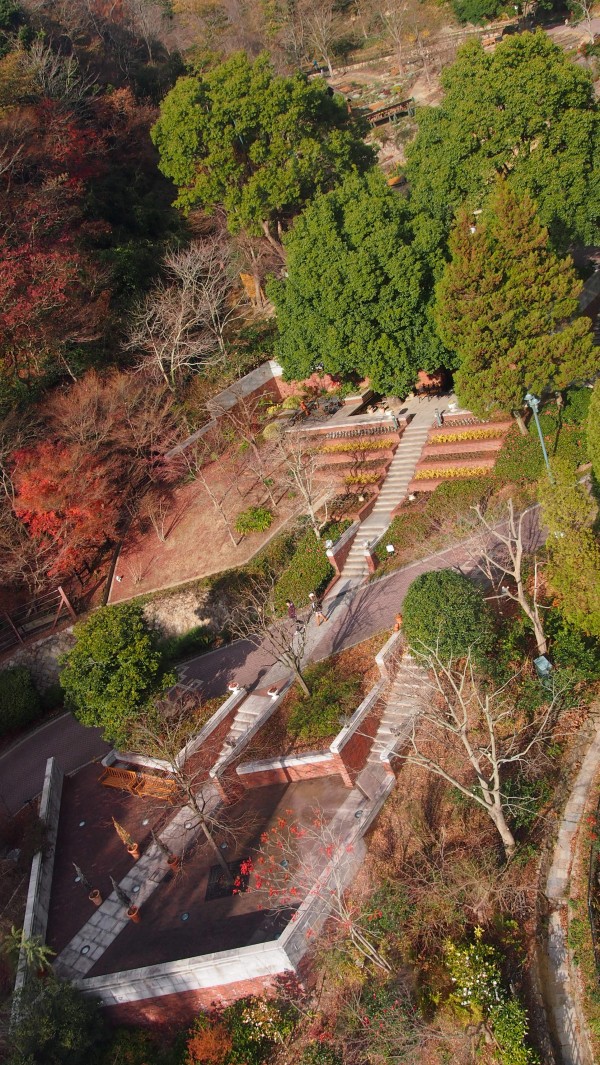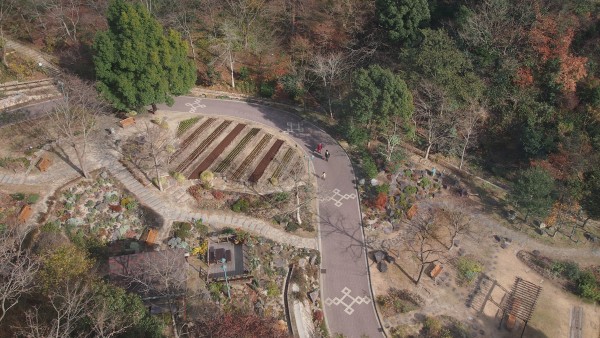 So yep, not the best idea to visit Nunobiki during winter. Although, because it was only the start of the cold season, there were still plenty of trees with leaves changing colours… Gotta love experiencing the last bits of autumn, with some trees greeting us with bright orange goodness!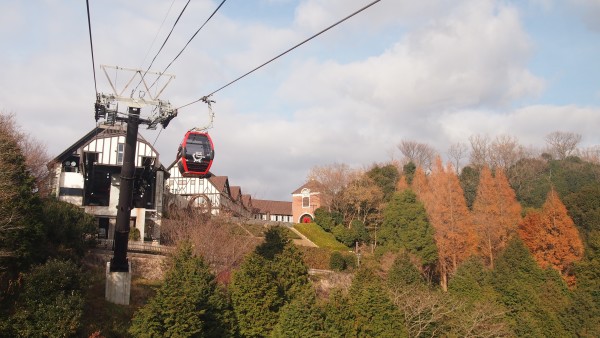 We arrived at the top and started our adventure… Well, sort of. Somehow the boys were already tired before it even began! LOL.
But to be honest, there really was nothing much to do up there. There was a rather interesting Christmas decoration and some lights that would probably look better at night…
Apart from that, there were a cafe, a restaurant, and a few souvenir shops.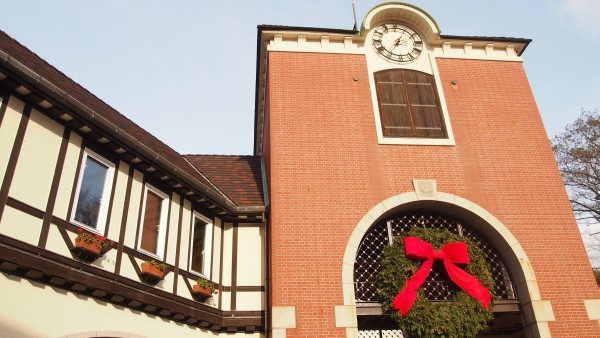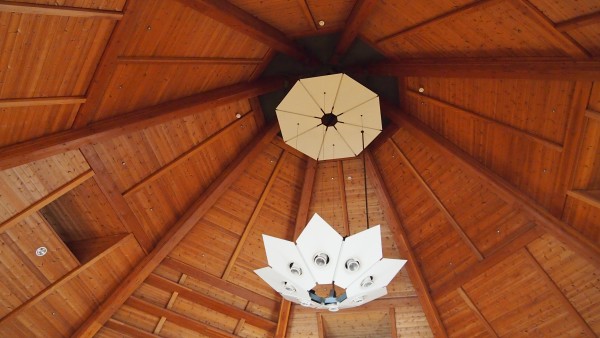 I did buy something that was pretty cool while at the top station… Drop Tea! I bought it for a friend of mine who enjoys a cuppa, because it seemed like an interesting concept. Just drop a couple of these tea tablets in your cup and brew with hot water. Or at least that's what I thought it said!
Anyways, after our rather uneventful trip to the top station, we decided that maybe it was best to make our way back to Kobe town. So we took the ropeway once again! (Technically, you can also trek down to the herb garden and then to Nunobiki Waterfall and all the way to Shin-Kobe area. But of course I wouldn't do such a thing!)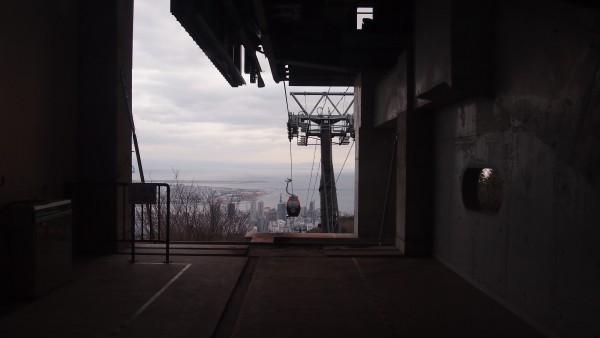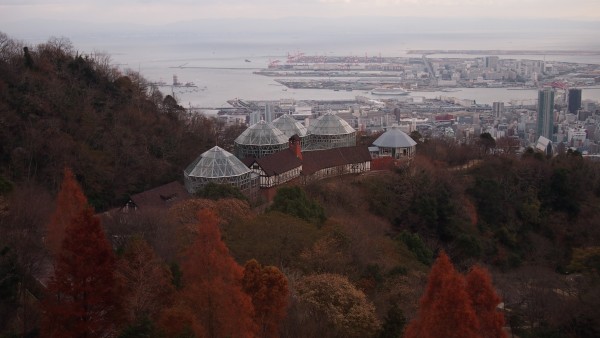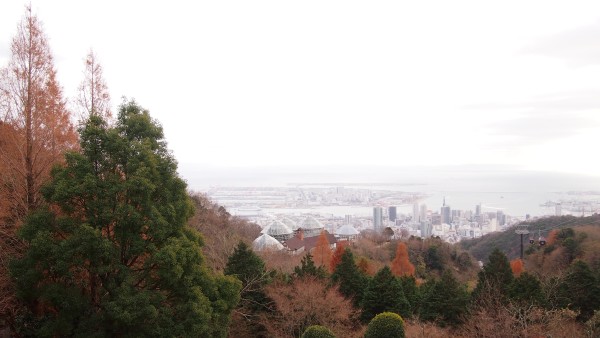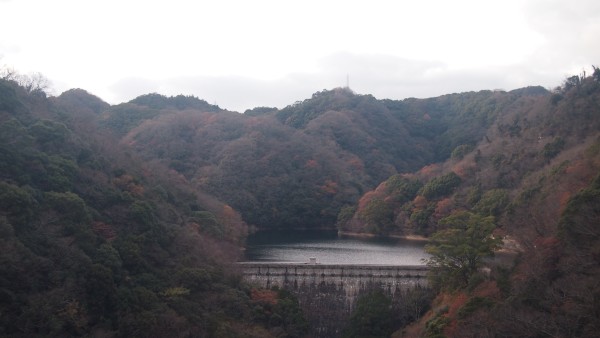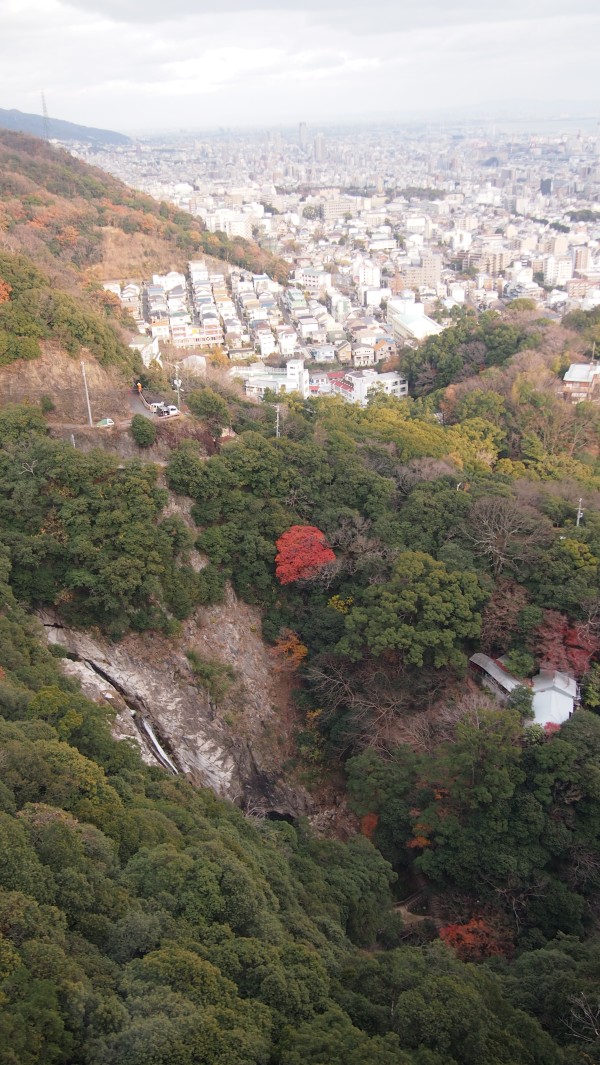 The view on the way down was pretty too! I love seeing the city from up high.
But yup, that was it. If you do want to visit Nunobiki, I'll suggest going during warmer seasons when flowers would bloom and greet you with more colours. If you're not into flowers (like us), it's probably not worth your time.
After that, we decided that we were a little peckish (so obviously the wagyu beef's quantity was a little lacking). We walked back to the Shin-Kobe Station area and found a little restaurant (can't remember what it was called, but it's a popular chain)…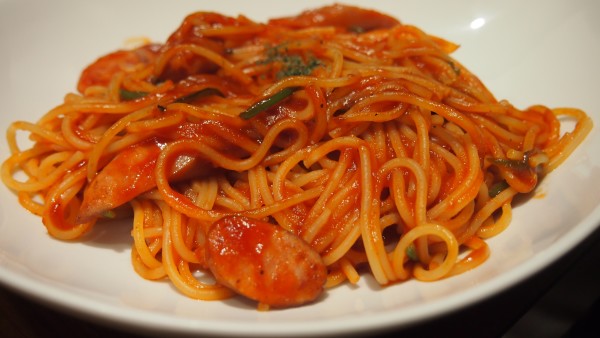 I had this yummy sweet pasta which tasted very Japanese. And then we proceeded to the main course… oops, I meant dessert! Ha. I was attracted by this cafe because they had the green tea parfait staring at me at the shop front (you know, one of those fake food replicas).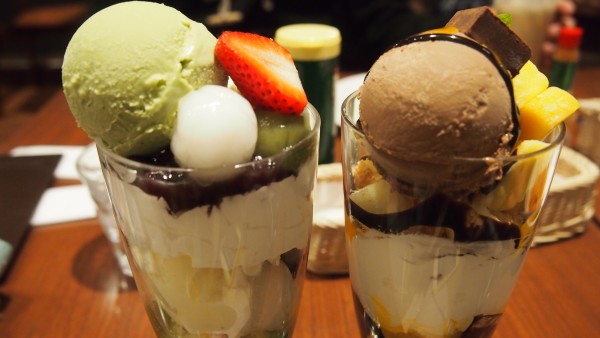 It wasn't as good as Kyoto's Gion Tsujiri green tea parfait, but it was good enough to make me happy!
Kobe Luminarie Winter Illumination
We then made our way from Shin-Kobe Station to the city centre. We walked past many random areas to get to the Luminarie illumination. As the city got darker and darker, many Christmas lights started to light up and shine through storefronts and buildings.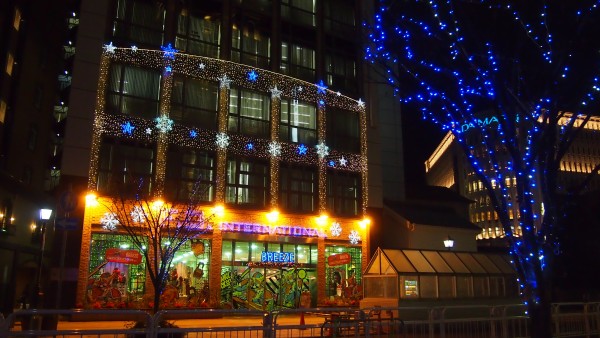 We walked half guided by Google Map, and the other half just following the crowd.
By this stage, we have seen so many illuminations that we were getting a little bit illuminated-out (LOL, yes that's a made up term)… But Kobe Luminarie is a little different, so I thought, why not!
Kobe Luminarie is held every year in the first two weeks of December to commemorate the Great Hanshin earthquake of 1995. Luminarie is an Italian word meaning illumination using miniature bulbs. The bulbs in the Kobe Luminarie have been provided by the Italian government and the illumination symbolises hope for Kobe citizens.

Source: JapanTravel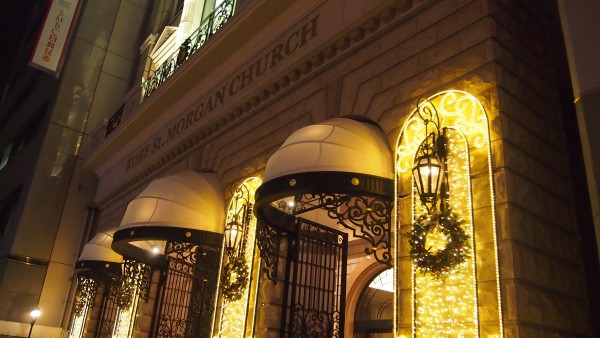 We knew we were getting closer when we saw a huge… Huge… HUMONGOUS… crowd queueing up with many traffic control officers around the area screaming on top of their lungs in Japanese.
We got stuck in this people-jam probably for a good 20 minutes, inching very slowly towards the tunnel of lights.
We did visit Kobe Luminarie on its last day for the year, but I did not expect so many people. As we walked closer to the tunnel, I could see how intricate the Luminarie lights are…
Pretty cool, huh! We kept walking and stopping abruptly due to the many people taking selfies and couple shots. We did the same, because… when in Rome, right?! (I should stop using that excuse, haha, but I do love taking touristy photos and the Japanese are the same, so high five!)
After walking through the tunnel, we were greeted with more beautiful lights that did look more European than Japanese…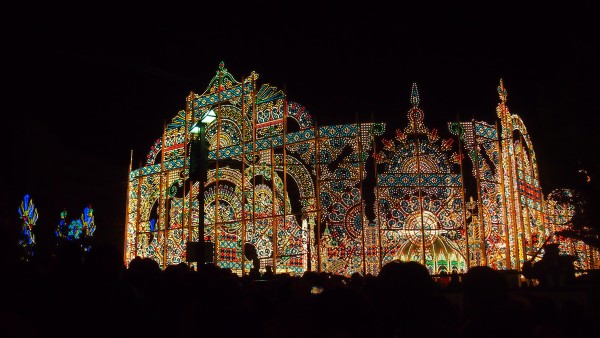 Very grand! And very very very many many many people people people!!!!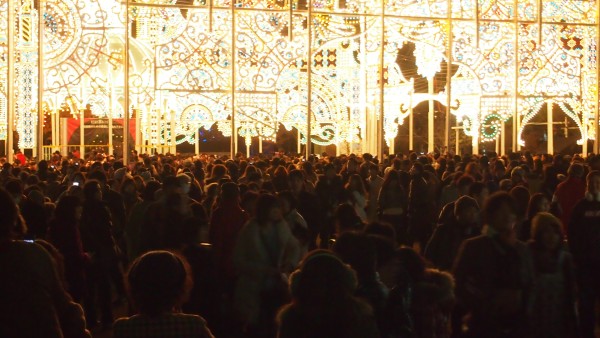 Okay, we weren't there to look at people, so here, look at more pretty mosaic looking lights that resembled old European architecture, or cathedrals…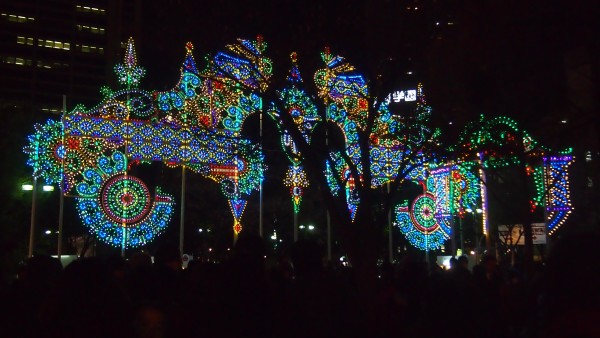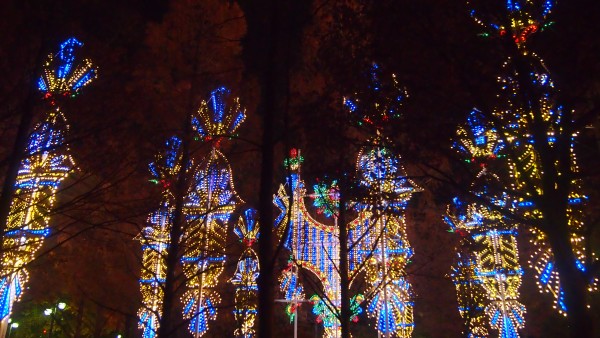 All that lights and people got us a little hungry for something more (i.e. food in ma belly). Luckily, where there are Japanese festivals, there are also festival food stalls!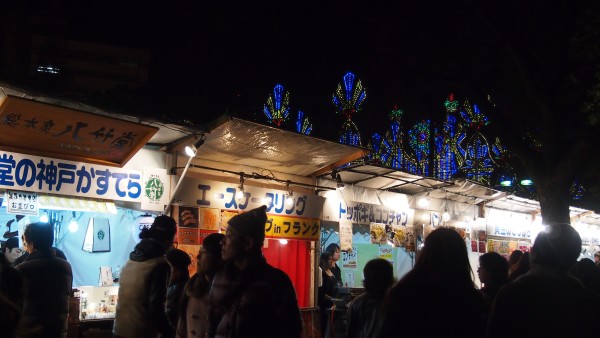 My eyes straight away went for the coolest looking fries (plus I love my carbs). もちもちポテト or mochi mochi potato, as you could read from the packaging. I picked the cheese toppings, and it was delicious!!! If only they were a bit more generous with the cheese sauce though.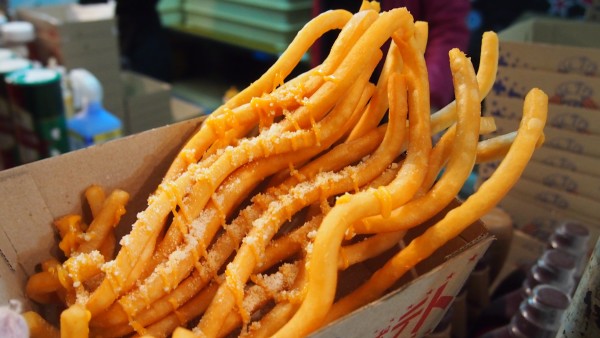 As with every festival, I had to buy a candied apple! I am obsessed with あめりんご!!! And if I remember it correctly, the mini apple was so delicious! Should've bought more. Should've eaten more. But everything in moderation… (Or, hubby would probably judge me if I were to buy a few more.)
We wandered around the area for a while and then decided that it was time to go back to Osaka. We were a little worried that the crowd would all be doing the same thing at the end of the night, so opted to leave a little earlier. Plus, remember… We were illuminated-out! LOL.
It was gorgeous though.
Kobe Luminarie is worth a look if you are planning to visit Kobe during the first two weeks of December. And Kobe beef is worth going to Kobe for, once in your life. Nom nom nom.