What's better than a snow-covered town? A snow covered UNESCO world heritage village that looked like it came out of a fairy tale, of course! And that was exactly what Shirakawa-go looked like on the day that we visited.
Only about an hour away from Takayama by bus, Shirakawa-go is a beautiful little village famous for its traditional gassho-zukuri farmhouses, some of which are more than 250 years old.
Gassho-zukuri means "constructed like hands in prayer", as the farmhouses' steep thatched roofs resemble the hands of Buddhist monks pressed together in prayer. The architectural style developed over many generations and is designed to withstand the large amounts of heavy snow that falls in the region during winter. The roofs, made without nails, provided a large attic space used for cultivating silkworms.

Source: Japan-Guide.com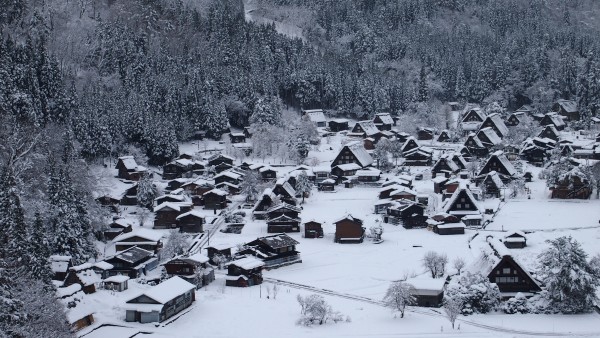 We went with a tour bus (with a bilingual tour guide who kept us entertained throughout the journey). The tour guide introduced herself as Ayumi and jokingly said that the best way to pronounce her name is to ask: "Are you me?"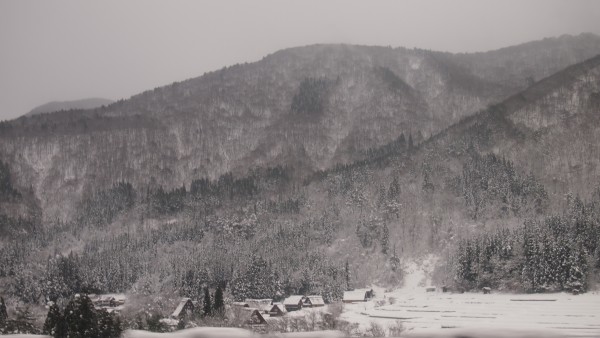 Takayama wasn't snowing heavily that morning, however, as we drove closer to Ogimachi, Shirakawa-go's largest and most popular village, we could see more and more snow falling. We (I) got really excited, naturally.
Once we reached the area, the tour bus took us to the Shiroyama lookout point first, to get a good look at the village from the top. Yay!
Don't you think these looked like they came out of a story book or something?!
We were then dropped off at the parking lot, allowing us to venture into the village at our own convenience for the next 2 hours. The bridge to the village looked so pretty in the snow. Actually, everything looked so pretty in the snow. Yes, I was trigger-happy and took too many photos!
Once we reached the village, we could see many gassho-zukuri among the field of white. They looked so cute, don't you think?
But before we checked out more of the cute houses, let's go through some of the souvenir and local shops selling various omiyage.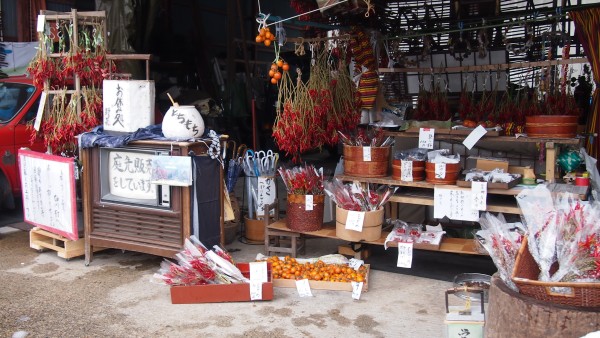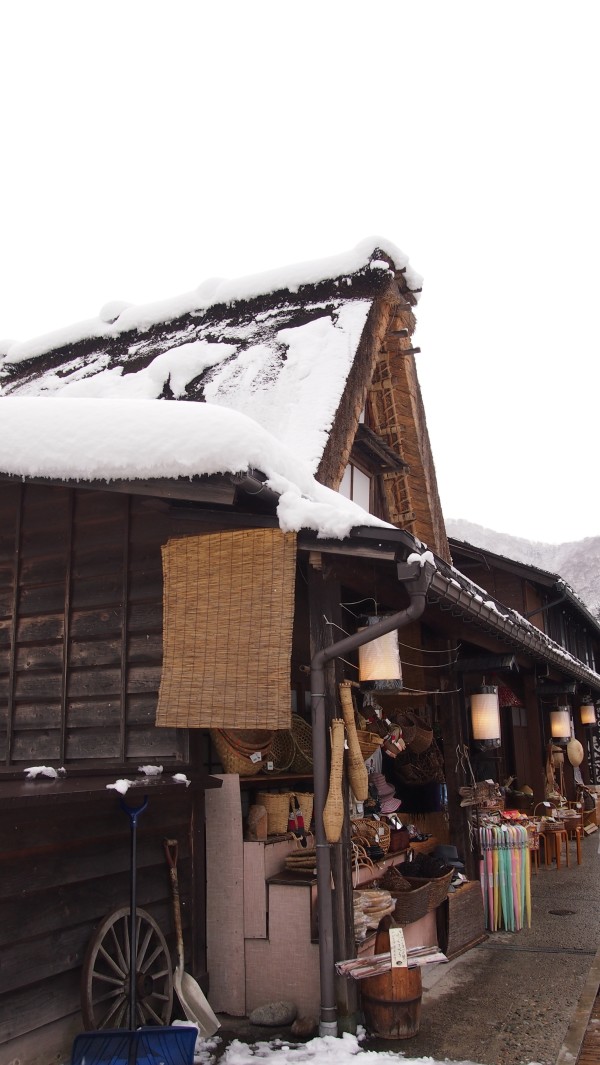 We didn't buy any local produce or even omiyage, but we did stop by at a gift shop to have a look (and to warm ourselves up before we continued our journey… because, cold!!!).
They have the cutest collection of sarubobo (a Japanese amulet famous in the Gifu area).
But anyways, we're here for the gassho-zukkuri, so I took a few more photos of these cuties!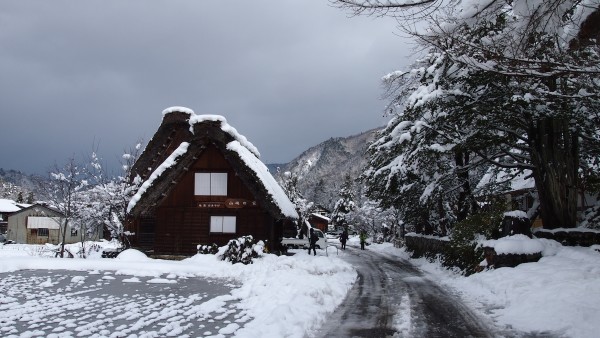 The tour guide explained in the bus that maintaining these thatched-roof houses costs quite a fair bit, as they needed to be rebuilt every so often. How amazing!
I love capturing little details and colourful things, in contrast to the white snow. Ah, seriously, this place would be so awesome for an engagement photoshoot (yep, I'm thinking about work, but really, it's such an ideal location).
We walked past a temple and other houses. We had a map, but to be honest, in the snow, everything kind of looked the same, so after a while we were just wandering around the village. It was a pretty tiny village, so that wasn't a problem!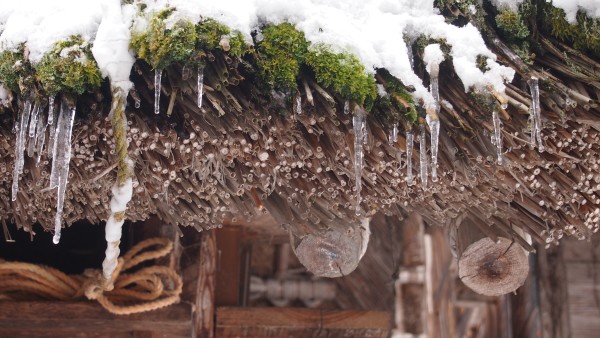 I found this amusing. There were koi fish in a little pond… The water must be freezing (almost literally), I don't know how they could survive!
So part of the tourist "attraction", if you want to call it, is to visit one of these farm houses that are open to the public.
We visited Kanda House, a folklore museum. The entrance fee was ¥300, pretty cheap especially since it includes matcha (green tea)!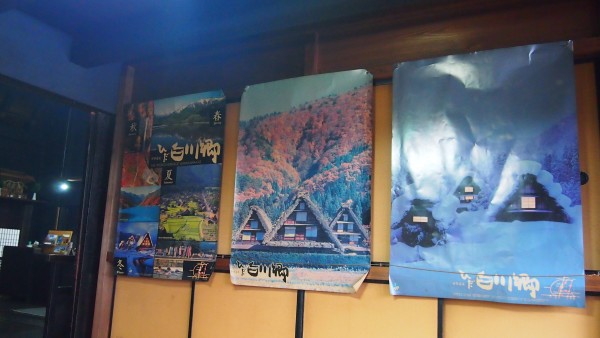 "Please drink this tea freely"! I love freebies. Especially a warm cup of matcha when we were feeling super cold.
So after taking some time sitting down and resting, we decided to walk around the house. Up we go!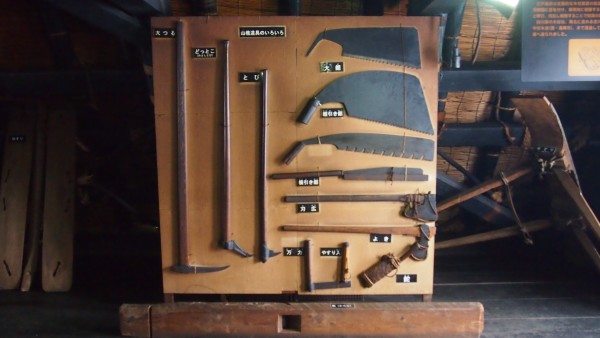 It was basically a museum filled with handiwork and tools from the era when they used to make silkworms and what-nots in these farm houses.
But there were some really cute things that made our little personal tour interesting…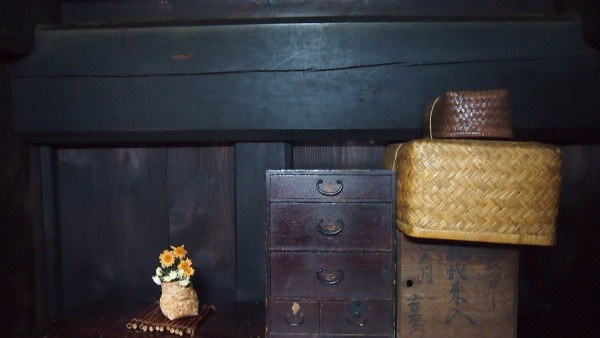 You could even get a glimpse of the entrance area from the second floor!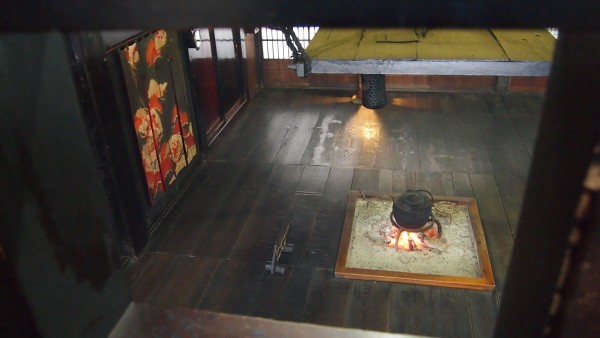 So, we walked up to find this gorgeous empty space with large windows…
And of course, as we peeked through the windows, we had an unforgettable view of Shirakawa-go.
Definitely worth the visit! There weren't many other visitors there too, so we pretty much had all the time in the world to take photographs and check out the museum…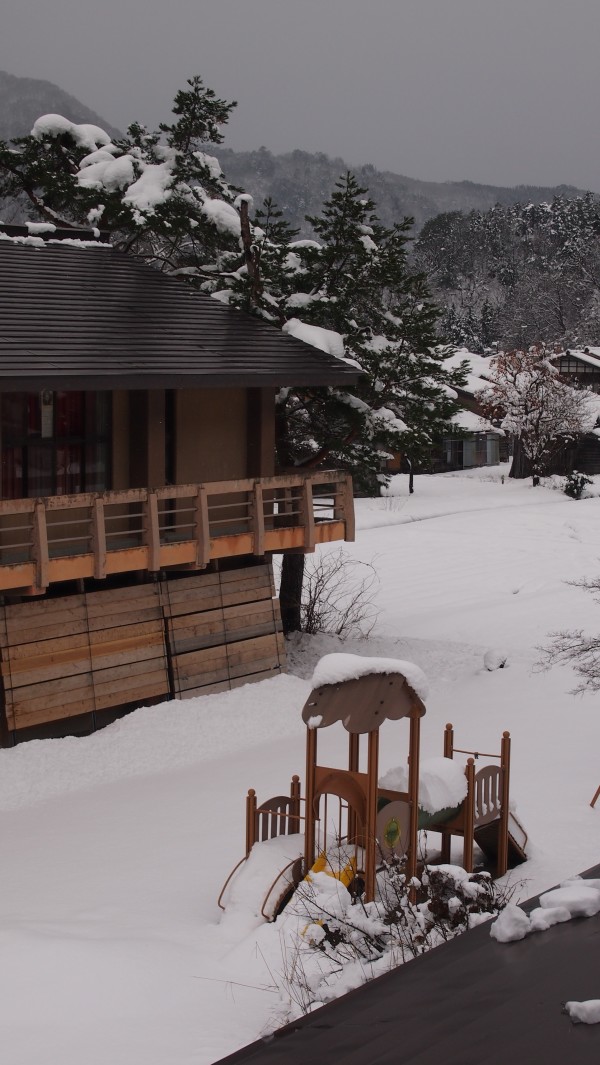 I love that little playground covered in snow! And the view of the farmhouses…
Totally in love! So yep, more photos coming…
We left Kanda house after our short but memorable visit, feeling slightly warmer thanks to the free matcha and the time spent indoors.
As we walked out, the sky has changed a little (mind you, it was not even noon).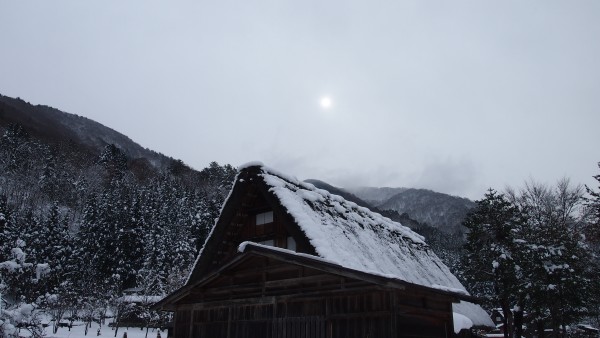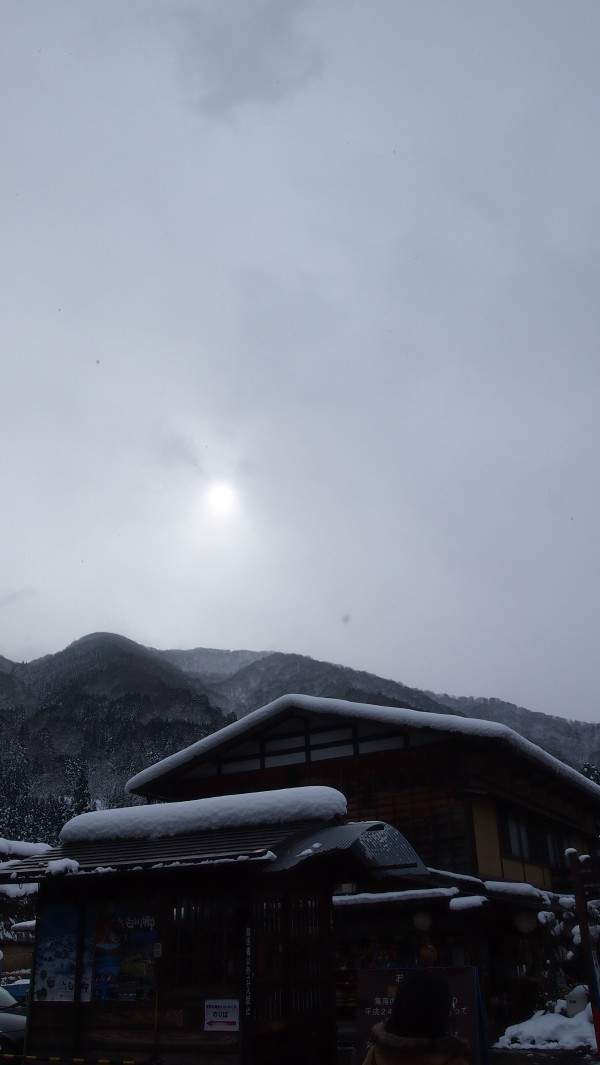 But still pretty! :) We walked back via a different route to check out the village a bit more…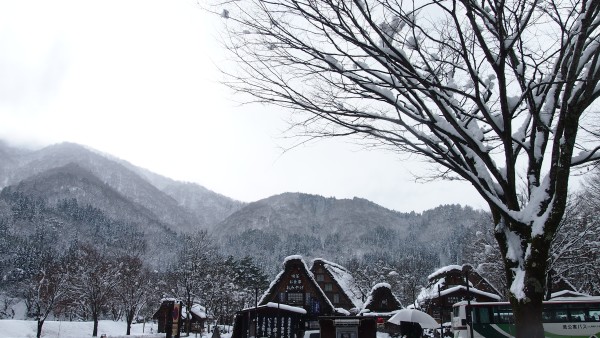 Before we knew it, it was almost time to return to the tour bus.
I managed to take this cute photo of the manhole cover with the design of the gassho-zukuri. Their attention to details never fail to amaze me.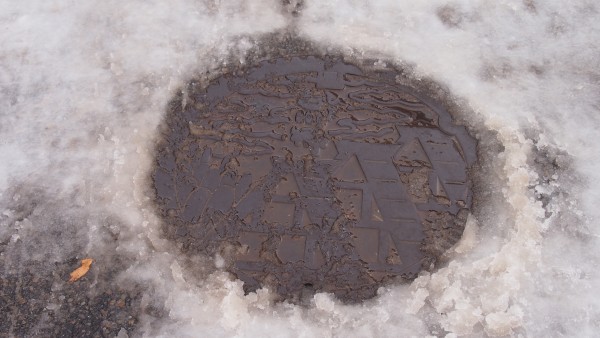 We returned to the bus and waited for a few other people. So I took this photo of the map and the Kanda house entrance tickets to show you…
It was definitely a memorable trip. And worth a visit, for sure! Especially when it's snowing…
I've also seen photos of Shirakawa-go in the summer, when everything is green and serene. Maybe we'll return one day.
Shirakawa-go will be a nice half-day trip from Takayama. Or, you stay overnight in one of the gassho-zukuri farm houses to enjoy the full experience.