We visited Osaka mainly for the food, shopping, and bright lights that it promised (i.e. Dotombori / Namba area). However, we also squeezed in a couple of fun day trips with the Osaka 2 Day Pass. This pass allows travel within certain areas as well as free entrance to many museums and attractions, alongside discounted prices for other things.
Is it worth the price? If you're into sightseeing, then yes, definitely! Visit as many things as possible and enjoy Osaka as a tourist…
Our first day started like any other day would… with food, of course! We wanted to take the subway, but got distracted by the amount of eateries.
My friends and hubby decided to purchase some ready-made food (pick and choose and they'll calculate how much). Can't remember whether it was good or affordable, but seriously, food anywhere in Japan is pretty decent, at the very least.
I prefer my breakfast sweet, so I went across to buy Beard Papa's cream puff!
And once again, Japanese packaging never seemed to amaze me (although, I feel sad for the paper/plastic wastage sometimes). They packed my single chocolate cream puff in a special Christmas plastic cover, and then pack them  inside a paper bag with an ice pack. YES! And ice pack for a single cream puff that I was about to eat anyway. Ah… Japan! <3
And of course, Beard Papa was delicious!
We then took the train to Tenjimbashisuji 6-chome Station and took exit #3, as explained here (you can also check opening hours, etc there). Our destination? The Osaka Museum of Housing and Living.
Everything looked pretty modern when we entered the building, although the entrance was rather underwhelming. We then took the escalator to the 9th floor where you will find the life-sized reproduction of the town of Osaka in the 1830s.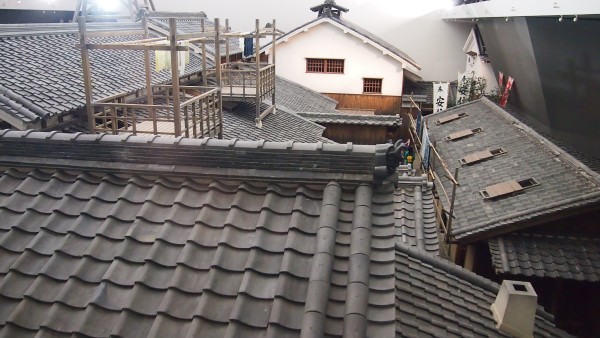 There were plenty of things to see and definitely plenty of photogenic props, including these cool (and scary) masks.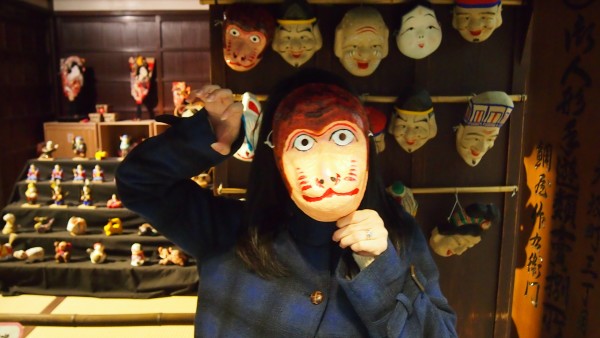 You could walk along the replica houses and even walk into some of them to get a glimpse of the edo period, with artefacts on display to showcase general household items or goods for sale in that time.
One of the coolest features of this museum is the changing "sky". It is an indoor museum, however they have made it to look like it was an outdoor village, with the rooftop as the sky, changing its colours as it turned from day to night time.
What's interesting was that you could also rent a yukata to wear and walk around the place. We were in our winter gear and couldn't really be bothered changing and stuff (yep, we were that lazy). In hindsight, should've done that!
We continued our walk around the museum's alleyways and found more treasures along the way…
Some of the houses looked just like the ryokans you would stay in. Isn't it great that they still managed to preserve the old Japanese lifestyle even until now?!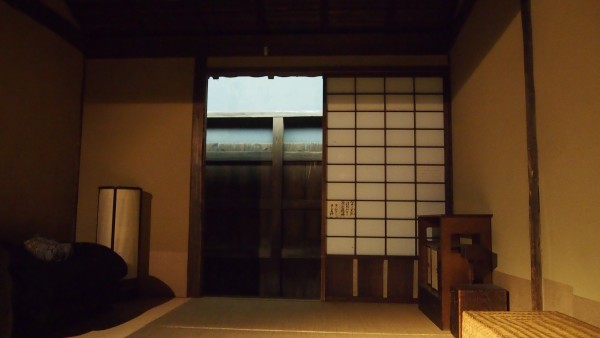 It's not Japanese if we don't see shrines and stuff!
The Osaka Museum of Housing and Living is worth the visit if you haven't been to any similar museum before. Mind you, there are probably a number of similar ones all over Japan. And it is definitely worth it if you were to visit with the 2 day pass, because yes, it's free!
Apart from the edo period reconstruction, there are other parts of the museum for you to look at and enjoy too. On the 8th floor, we got a glimpse of the Meiji / Taisho / Showa era with mini model replicas.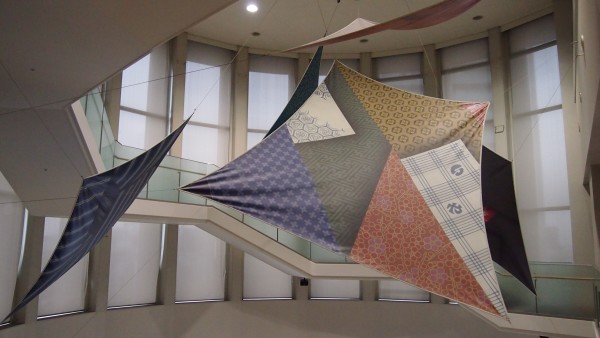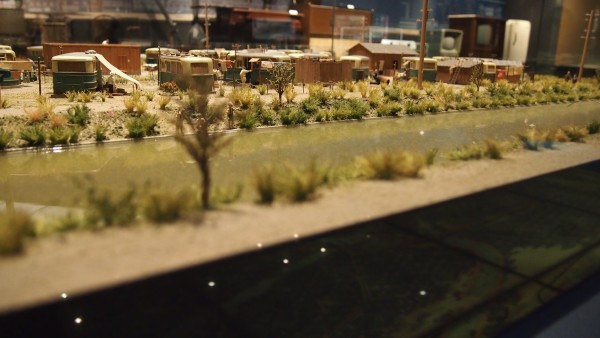 We left the museum and walked towards Tenjimbashisuji shotengai, i.e. a long indoor shopping street with more than 600 shops that stretches over 2600m of space.
We didn't do the whole walk because we had other things in mind, but it was a fun experience to just walk around and find something to eat or buy.
I found this candy shop selling old sweets for cheap, so I bought some souvenirs… including these poop-shaped chocolates and lollies. Gotta love Japan!
Oh and we saw some filming of some stuff while we were there, haha, not sure what they were doing though.
We got hungry so we picked a random restaurant to eat in, based on the pretty plastic food samples at the front of the shop…
The food was pretty tasty. Nothing to shout about, but pretty good for the tummy! As you can see from the photo below, we devoured everything!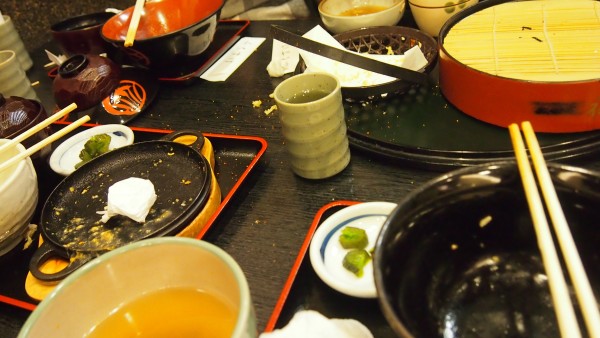 We then took another train and found ourselves a Sweden ice cream shop in the Hankyu Umeda Station. When ice cream calls, we scream ice cream!!!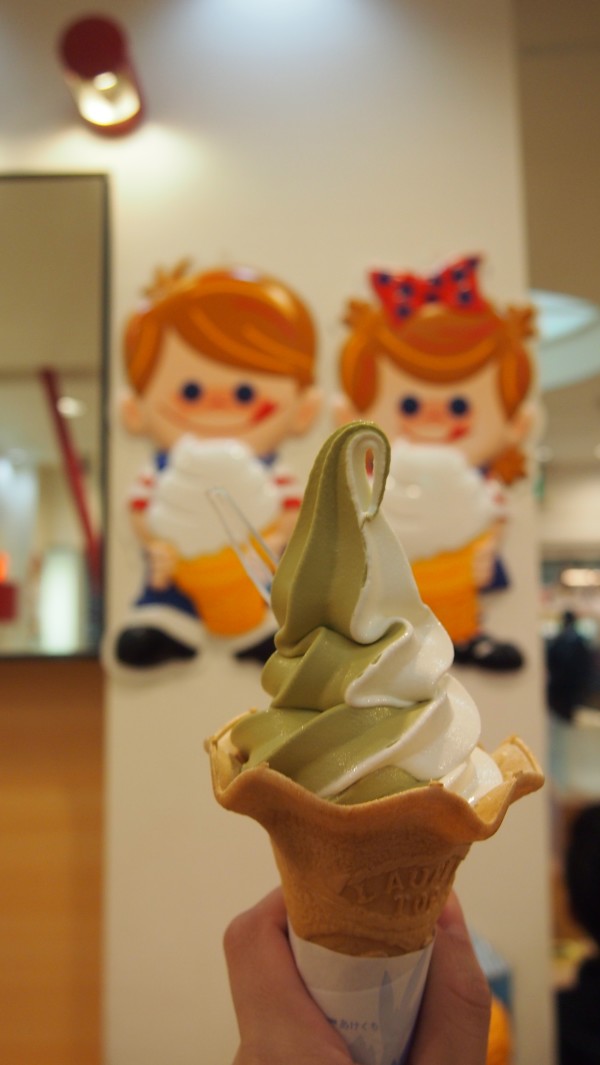 That was a perfect way to rest our tired feet before our next destination. But hey, that's for another post! :)
A visit to The Osaka Museum of Housing and Living will transport you to the Edo period, and is free of charge with the Osaka Day Pass. I recommend combining this with a walk along Tenjimbashisuji shopping street. Spend about 2-3 hours there before going to your next destination!