It has been more than a year since our honeymoon in Japan. We were there for about 10 days from mid-March. We had a mini trip to Hakone and Kyoto at the start of our trip – so here's the Hakone bit! I'm hoping that by documenting our trip, we will help other travellers to plan their trip better.
Day 3: Hakone
If you are looking to have an overnight trip away from Tokyo but don't want to go too far, let me suggest Hakone…
Hakone (箱根) is part of the Fuji-Hakone-Izu National Park, less than 100 kilometers from Tokyo. Famous for hot springs, natural beauty and the view of nearby Mt. Fuji, Hakone is one of the most popular destinations among Japanese and international tourists looking for a break from Tokyo.

Source: Japan Guide
It's easy to get there by shinkansen (bullet train), there's a beautiful lake and a nice view of Mount Fuji, heaps of onsen (hot spring) to choose from including an onsen theme park (more on that later) and that great small town feel which you wouldn't find in Tokyo. And some other stuff too, but let's start from the beginning of our day…
We started with breakfast, like any normal person would. But because we were running out of time, we just went to Tokyo station straight away and found this little soba udon shop next to our shinkansen platform.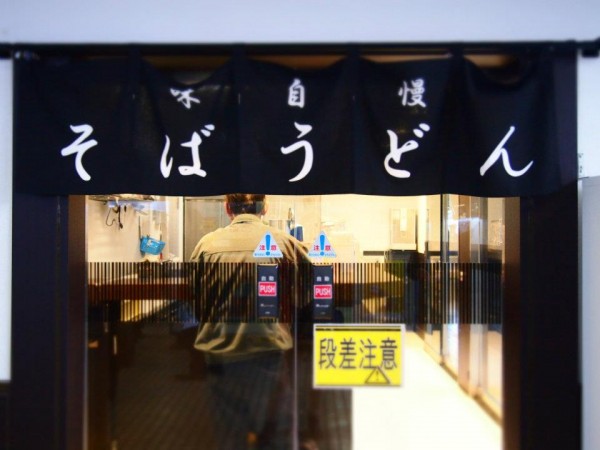 Instead of ordering via waiters, many small Japanese restaurants put a machine at the front where you can choose your order and a receipt will come out for you to give to the waiter. Great idea, but not so great for us tourists with very limited Japanese reading skills. I could only tell the hubby if it was udon or soba or donburi. Oh and if it was gyu (beef) or kare (curry) or … well, you get the hang of it! Since we had about 15 minutes to order and eat, we just chose one that we could understand and went with that!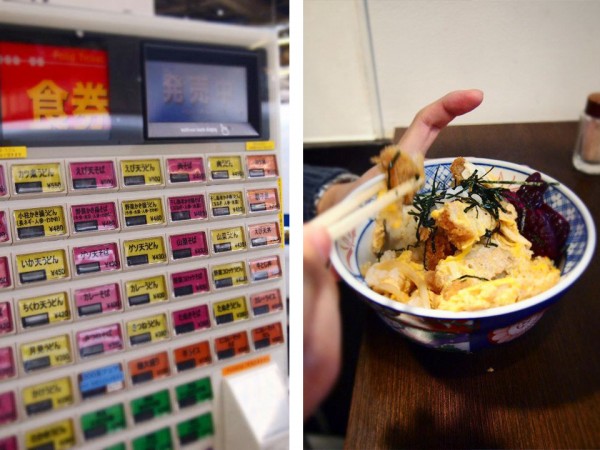 Done with the food, the shinkansen arrived and a few cleaners went in to tidy up the place and chuck the rubbish. They did the cleaning very swiftly and everything was nicely cleaned when we walked in – although you wouldn't expect any less from the Japanese! :) We walked in, found our seats, showed our tickets to the uniformed inspector and off we went…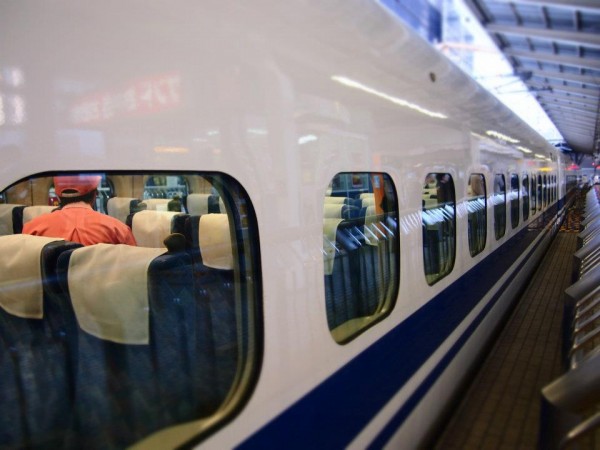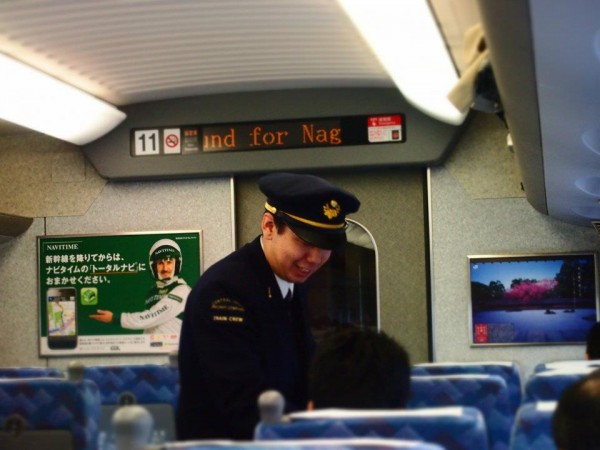 We arrived at Odawara Station in the afternoon and took one of the buses that brought us to the lake. The Hakone area catered to a large number of tourists daily, so finding locations to purchase your tickets and general travelling around was not too difficult for us. Most people would go through the scenic route, which include taking the Sightseeing boat, the Ropeway and Cablecar. We only had a day so that's what we did. Others would opt for a visit to a few of the many museums and gardens around the area. Choose what you like, just plan ahead.
Once we arrived at Hakone-machi, where Lake Ashi is, we boarded a pirate ship. Yup, a pirate ship! Well, with no pirates, only plenty of trigger-happy tourists. We didn't see Mount Fuji from here, so that was a little disappointing, but the view was gorgeous…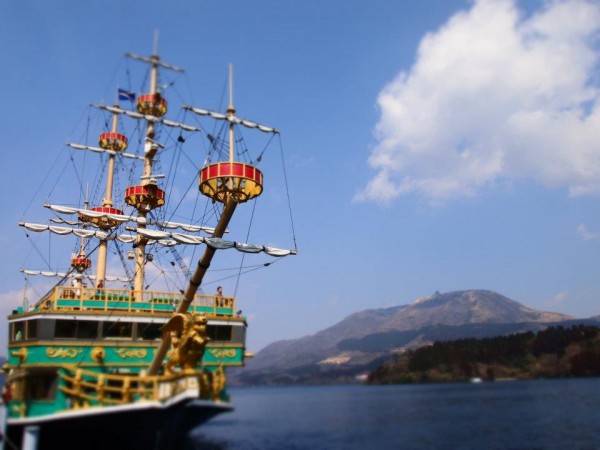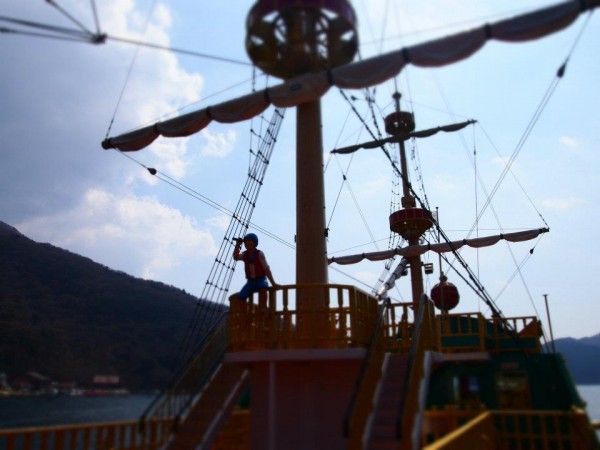 Once we reached the other end of the lake, we went on Hakone Ropeway where we ascended into the heights of the mountain (or something like that). From here, when the sky is clear, you should be able to see Mount Fuji. We did! :)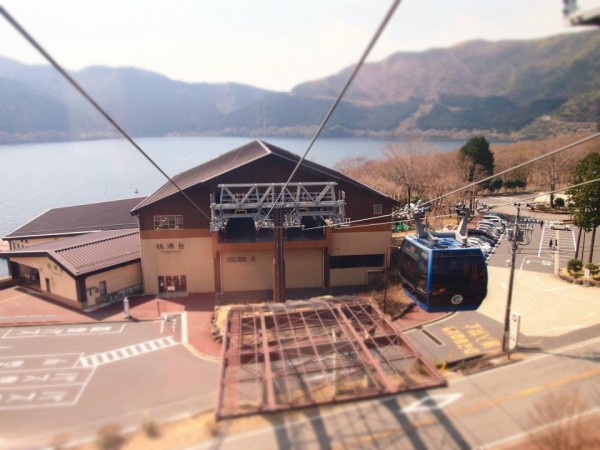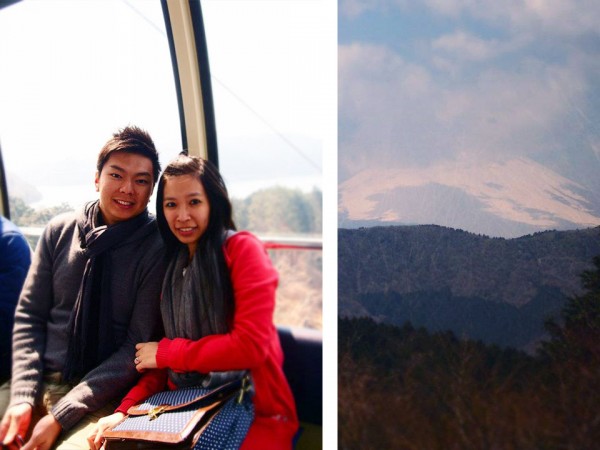 There are a couple of stops between the Togendai and Gora ropeway route. We stopped at Owakudani.
Owakudani (大涌谷, Ōwakudani) is the area around a crater created during the last eruption of Mount Hakone some 3000 years ago.

A short walking trail (about ten minutes one way) leads from the ropeway station into the volcanic zone to a number of steam vents and bubbling pools. Here you can purchase eggs, cooked in the naturally hot water, whose shells are blackened by the sulfur and which are said to prolong one's life by seven years.

Source: Japan Guide
We didn't do the walking trail, but we probably should've. Instead, we spent a fair bit of time in the little souvenir shop! Ha. And we didn't try the black eggs either. I did, on the other hand, take heaps of photos of the eggs and the Hello Kitty with black eggs mascot. Yep.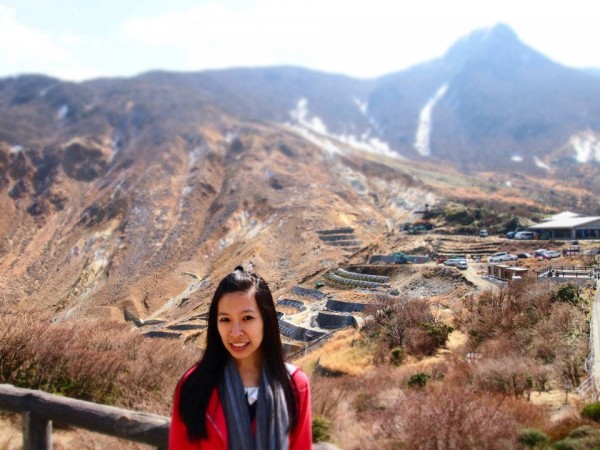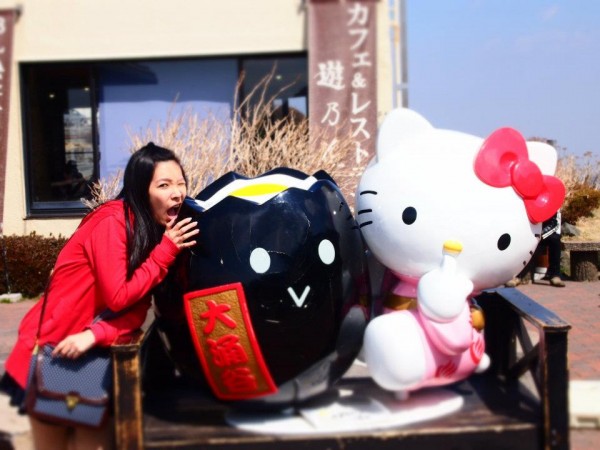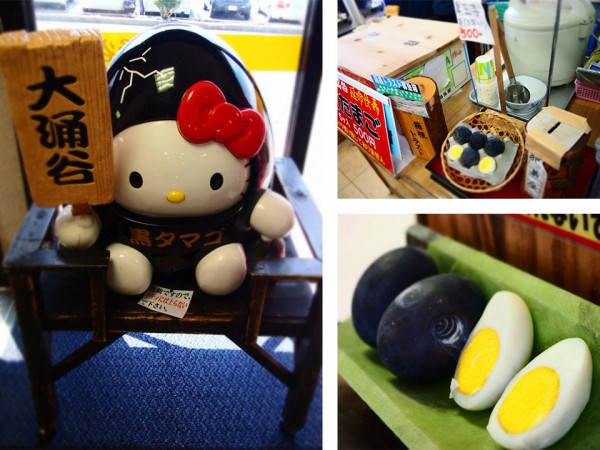 There were also other things in the little shop that got me excited, because they simply looked cool or kawaii.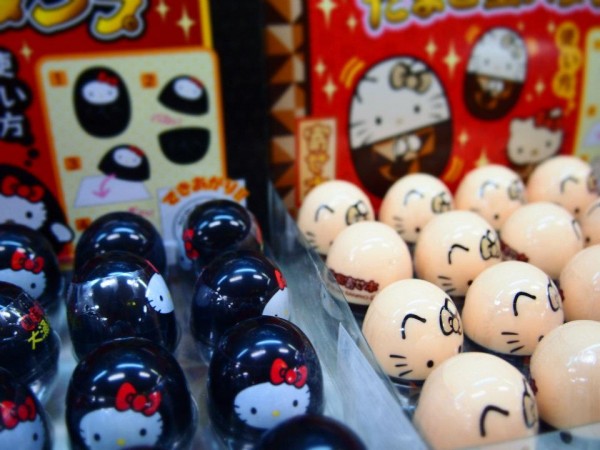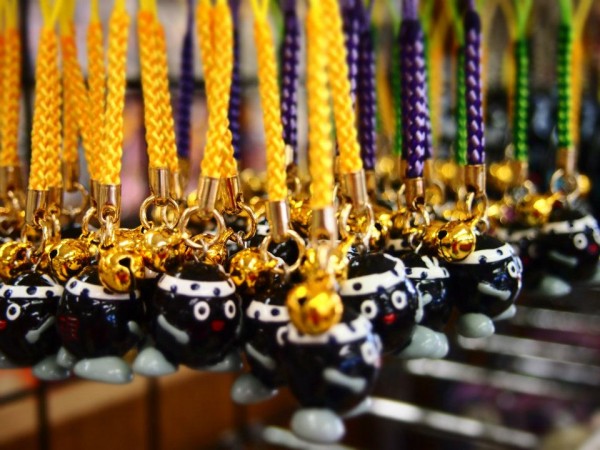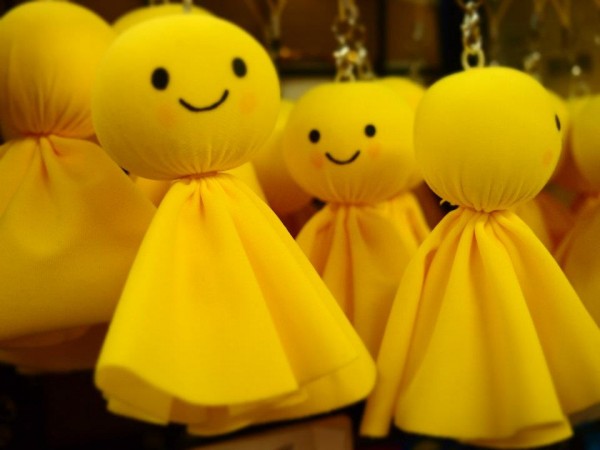 We fell in love with this in Japan… Yup, soft serve ice cream. Who woulda thunk they'd taste so good? … And have so many different flavours too! I wanna try more the next time I visit, even if it's winter.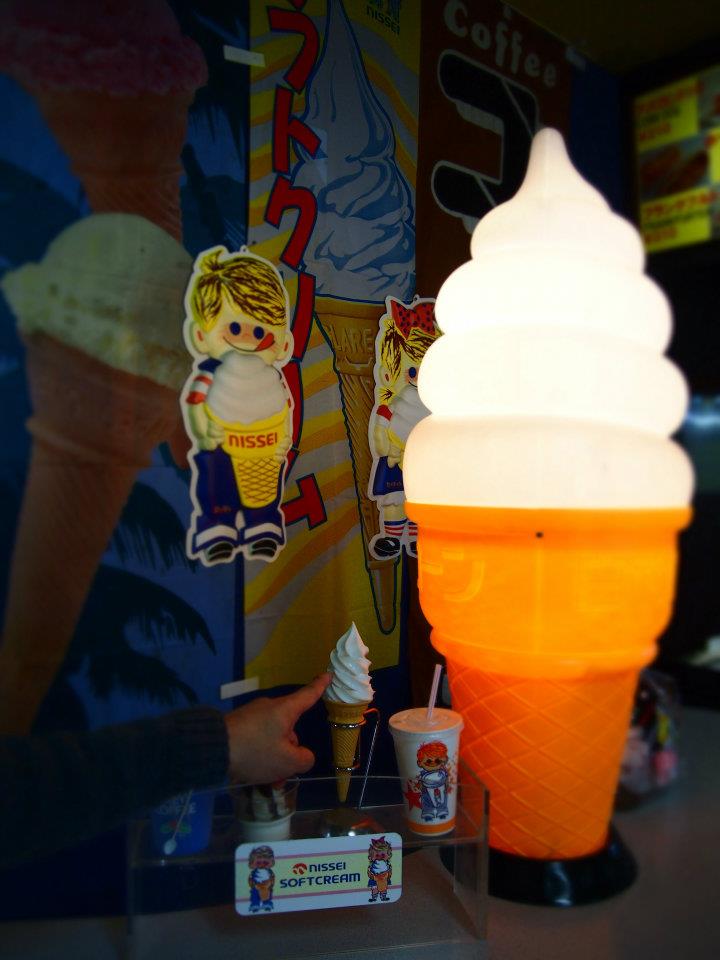 We walked around a little bit after that and saw a tiny prayer shrine thing, not sure what it is, so that's how I'd describe it. But yeah, it looked very Japanese so I took a photo! LOL.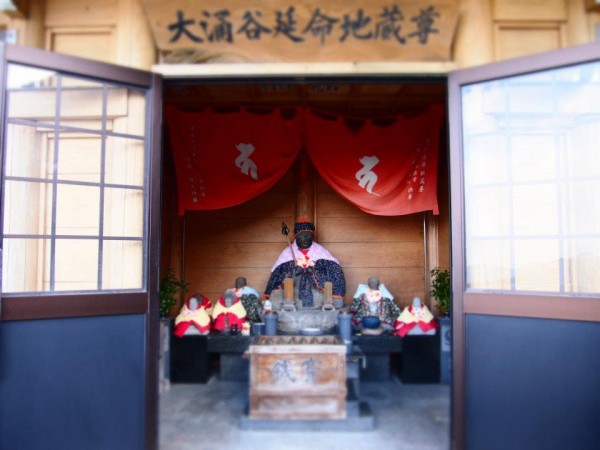 Another thing that was very Japanese and I couldn't help but giggle? Japanese Engrish. Truly awesome. "Do not do getting on of bringing forward and do not miss it." Care to decipher anyone?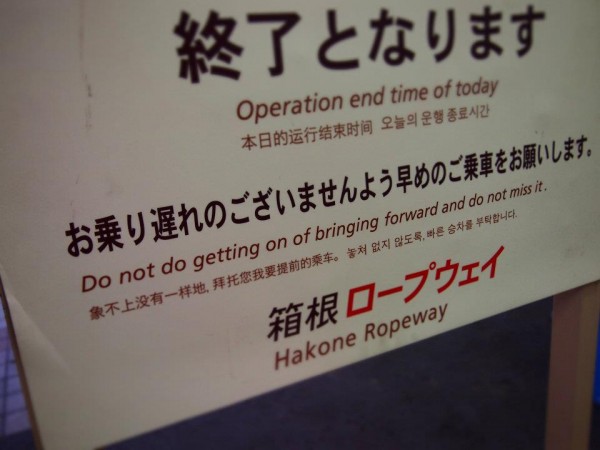 So we went back on the ropeway to return to the Hakone town centre. I did enjoy the view from up high – and yes, we had our second sighting of Mount Fuji! This time, even more glorious than the first…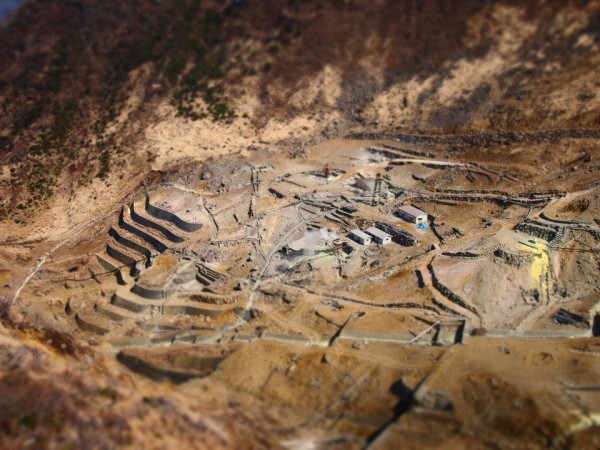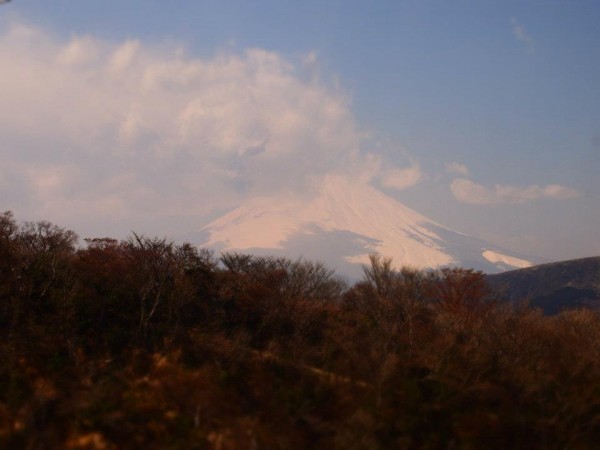 That was it! The famous Hakone tourist loop – done! Of course, we could've visited more places and done more things, but if you only have a short time to visit Hakone, you should probably follow our route too!
Now, it's not creepy to take pictures of cute school girls, right? LOL. I had to, because they looked so cute with their school uniforms and hats and school bags. I'd love to wear something like this…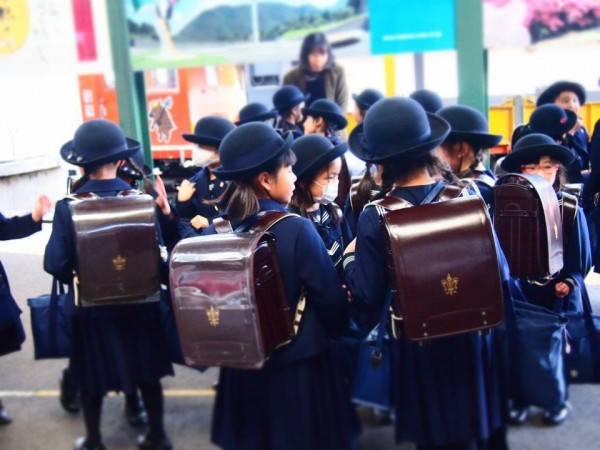 Anyways, back to conquering Hakone in a day… Hakone is one of the famous spots for onsen in Japan. The onsen culture requires you to be separated by gender and for you to go in completely naked after you wash yourself. You see, I didn't want to be separated from the hubby and more importantly, I did not feel comfortable at all to go full nude with other women. So we decided on a not-so-traditional hot spring theme park instead. It's called Yunessun. The place is both majestic and kawaii (like everything else in Japan!)…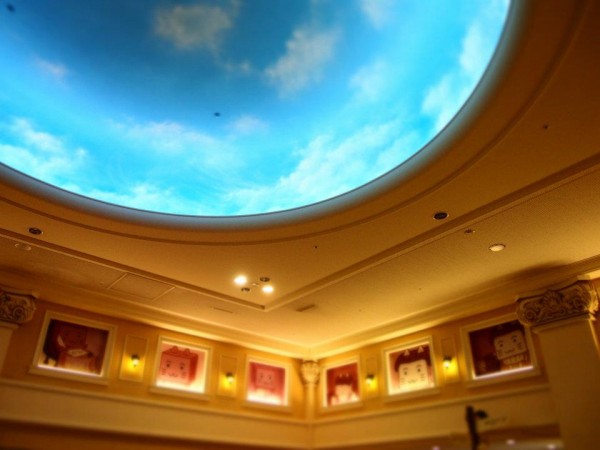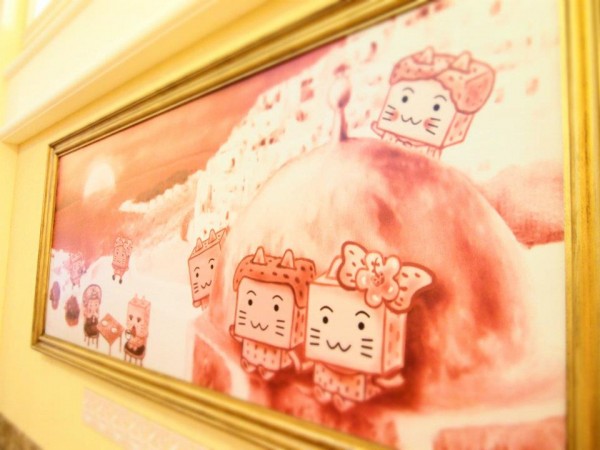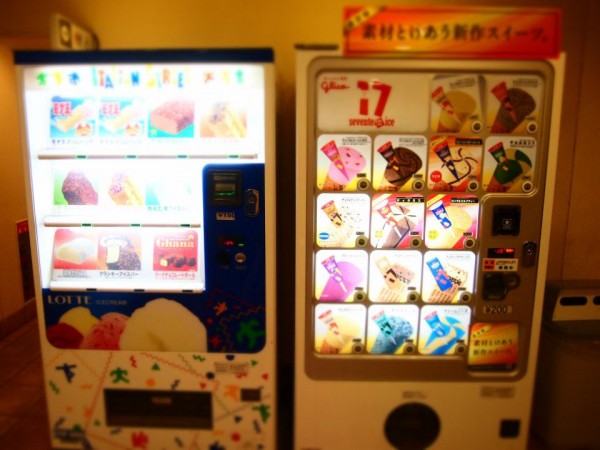 I, for obvious reasons, did not bring my camera with me inside the theme park. But you can visit Yunessun website to get an idea of the number of awesomely themed onsen available in there. From green tea to red wine to coffee. From dead sea salt to honey to collagen. From Aegean sea whirlpool to dark steamy cave to fun slides. They've got them all. But all you've got is this one sad picture, sorry: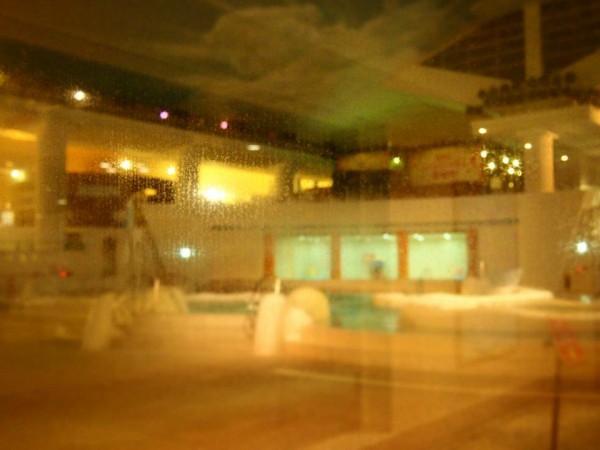 We were in the onsen area until almost closing time, so when we went out, there were hardly anyone which was great. After all the fun we had (we had heaps of fun), we got dressed and went back out to find these cute mascots hanging around.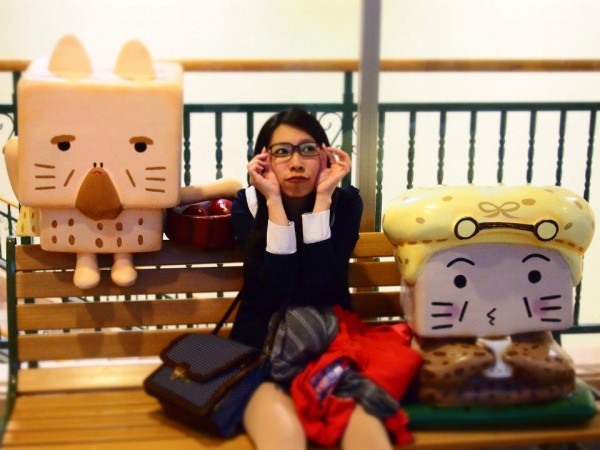 Oh and of course, we were hungry. You know that feeling after you've had a really nice relaxing swim or bath? Yup, the feeling of "I need food in my tummy now!" So we went to the Yunessun cafe and gift shop to have our dinner. Pretty basic, in fact I think they microwaved the food. LOL. But we were too tired to care!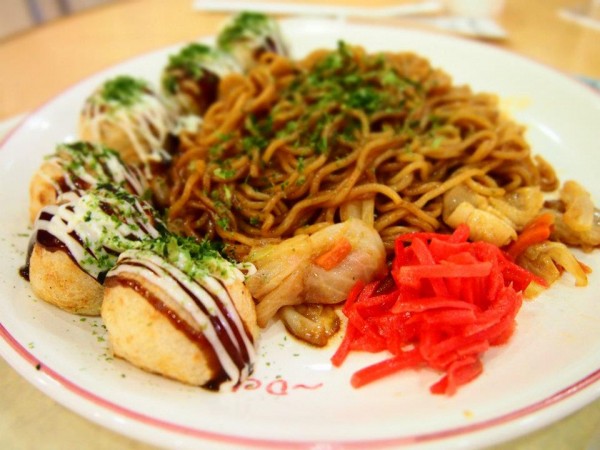 What we weren't too tired of was… more ice cream! Nissei, I love you. I had the green tea cheese cake combo, it was yummylicious!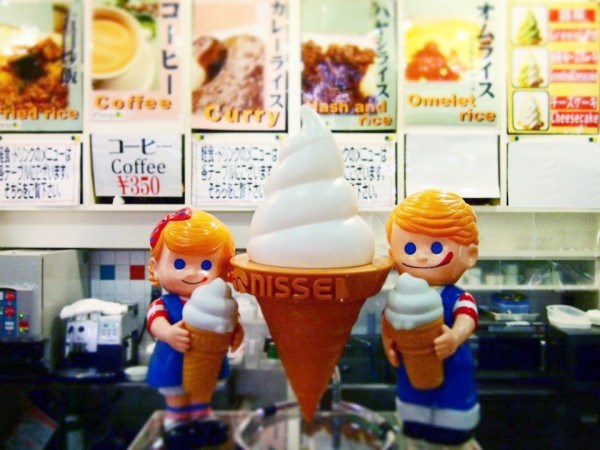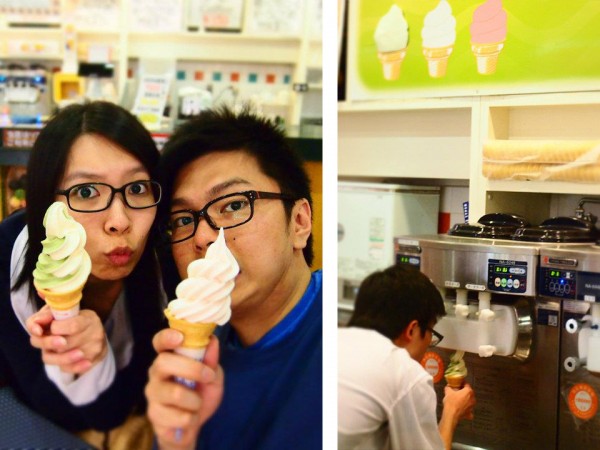 After that, we walked around the gift shop selling some of the cutest things around. Really, kawaii.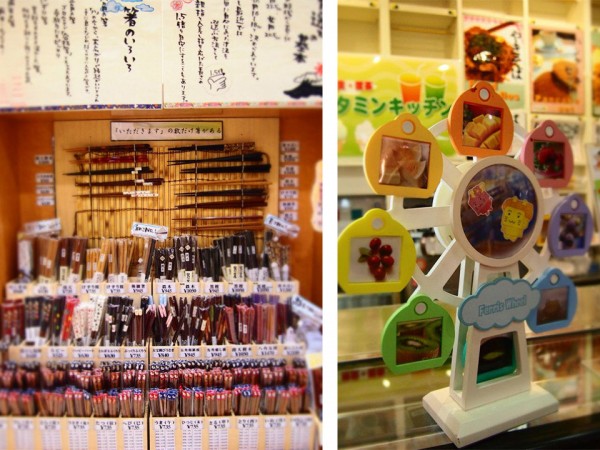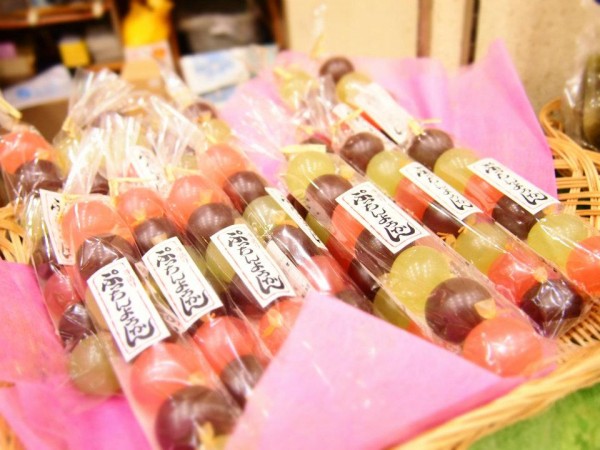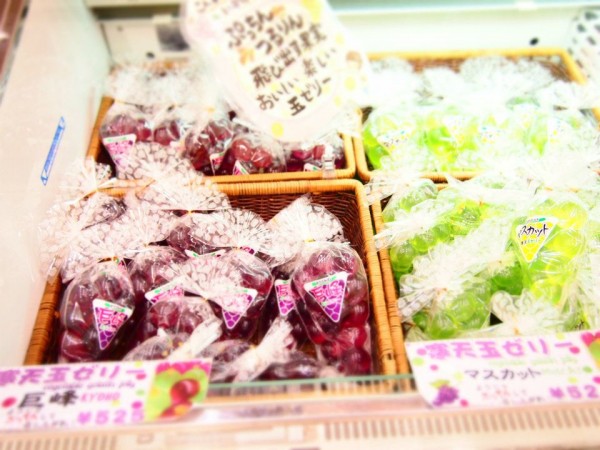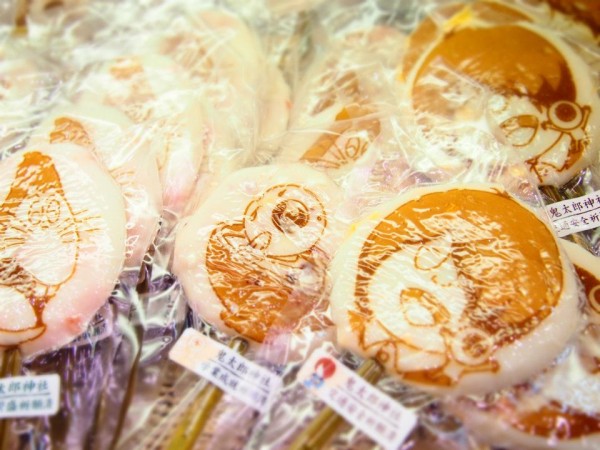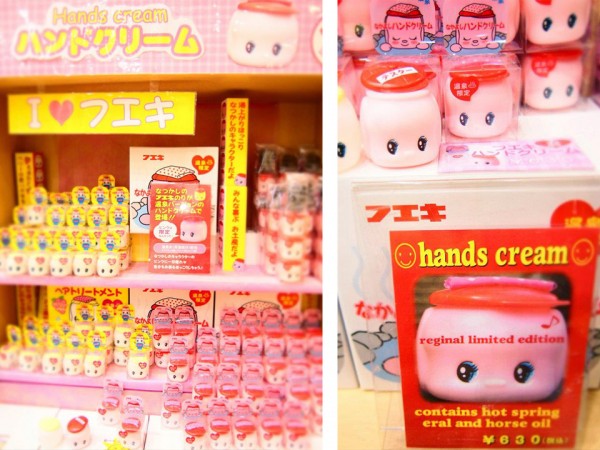 And that was it! The hotel that came with our hotel & shinkansen package was Hakone Kowakien, right opposite the onsen theme park. Probably one of the worst rooms of our stay in Japan, but not to say it was bad, the rest were just better! ;) The location couldn't be more perfect – direct bus to the station up the main road and Yunessun opposite.
After a tiring day of sightseeing, this was how the hubby celebrated finally going back to the hotel for a good night rest…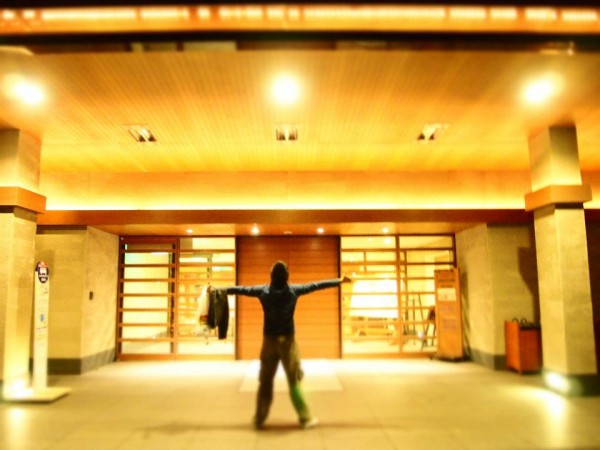 The next morning, we took a bus to the Odawara station. We were a little peckish, so we bought some yummy katsu stuff and sushi for brunch. Pretty awesome for a quick meal.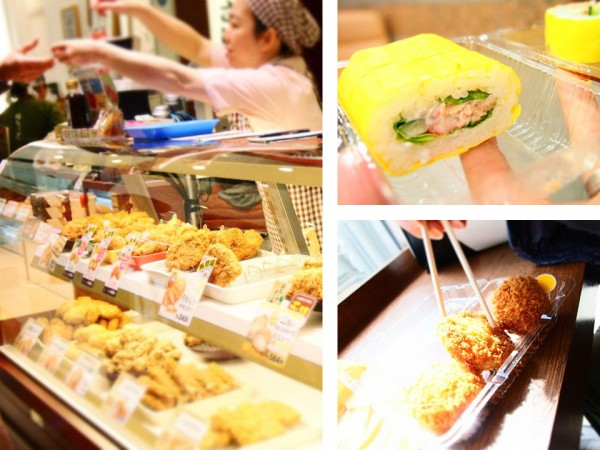 And that was the end of our Hakone trip. Would we go back again? We definitely realise we're not the type of people that can truly enjoy a place by staying there only for a very short while, but of course that can't be helped sometimes. So maybe one day we will go back to Hakone and travel a little bit more.
---
Note on the type of travellers we are: The hubby loves to just walk around and immerse himself into the culture, getting lost in the process and tasting local foods. I, on the other hand, love photography and I love people watching. Oh and I'm a keen observer of all things kawaii. We both appreciate the beauty of nature, but are more the type who love big cities and the hustle bustle. Castles and temples won't make us go WOW! as much as Kit Kat in different flavours.
---
The rest of the days of our March 2012 Japan trip:
Would you plan for rest days when you're on vacation? What do you usually do on your rest days?